Grace and Grandpa's Paris Visit 3: Père Lachaise Cemetery
Grandpa's Summary
Cemeteries are not supposed to be fun, especially for those who sleep there. But the famous Père Lachaise cemetery is somewhere near the bottom of the top ten Paris places to visit. Higher than that if you are a history buff. But since you are likely now over 60, maybe you should stay away from this sprawling reminder that all good things must come to an end.
Lachaise offers a cornucopia of famous writers, artists, politicians, philosophers and just plain folks. Perfect for a morning or afternoon stroll.
But beware: that stroll may become a walker`s nightmare. Uneven paths, hidden gaps and bumps, plus treacherous cobblestones await you. Unless you`re sure that your walking boots are trip-proof, stay away. Or you might get an earlier-than-planned underground berth.
Grace's Impressions
The cemetery Père Lachaise has a special air to It.  It is majestic and somewhat sombre….any author would want to be buried there. We visited Frédéric Chopin's grave first. It is covered in flowers and there is a violin next to it. Then, we visited Edith Piaf. After a steep climb, we saw her marble grave, very well polished, like her singing.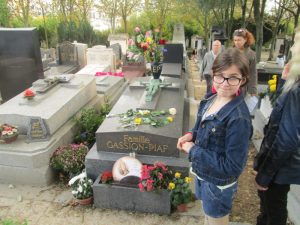 "The sparrow's" grave. She will live forever in our hearts with "la vie en rose"and "Je ne regrette rien".
Finally, we stood before Oscar Wilde's grave. A big glass cover is in front of it so that nobody can get in. Admirers have kissed the glass, leaving stains all over it! It feels nice to stand in front of famous people's graves and it must be nice for them to have died famous.