GREAT ORGANS AND ORGANISTS OF PARIS

Beautiful Music for Anytime of Year.
                                                      The five keyboard organ at Saint-Sulpice
G-pa's view

Everybody knows Paris is a famous capital of art: the Louvre, the Musée d'Orsay, the Picasso Museum and scores of other world-renowned museums and galleries.
What about classical music – and the emperor of keyboard music, the pipe-organ? Paris is a paradise of church organs, offering at least 234 of them, many from the 16-17th and 19th centuries. It also harbours scores of world-class organists, from Philip Roth to Marie-Claire Alain.
The majestic sounds of their organs are a secret treat for the average traveler, a too-often-unheard echo of the grandeur of Western civilization.They remind us of why the great Russian cellist Msistslav Rostropovich called Johann Sebastian Bach, the Cantor and master-organist of Leipzig's Church of St. Thomas, "the God of Music."
   If you're visiting any of the hundreds of Paris churches – and especially around Christmas or Easter – you can hear many of the greatest organs and organists of all time. Here are a handful of the stars:
Saint-Sulpice
Dominating the square of that name in the sixth arrondissement, this church of the Sulpician Order has a mission since 1641 to train priests. Novelist Dan Brown made it the locale of his fantasy The Da Vinci Code. It harbours a world-famous five keyboard organ originally built by François-Henri Clicquot. This was inaugurated in 1781, then renovated in the late 19th century by master-builder Aristide Cavaillé-Coll.
The church has had many famous organists, including in the 20th century Charles Widor and Marcel Dupré.The latter was an ingenious improviser; Widor is best known as a composer: his dazzling Toccata in F from the final movement of his Fifth Symphony has brought a sense of  joy to wedding recessionals and Easter celebrations throughout the world.

                                                                      L'église Saint-Sulpice
 Saint-Eustache
With 8,000 pipes, its 16th-century organ is the largest in France and one of the world's most renowned instruments. Its free Sunday concerts draw huge crowds. Queen Elizabeth attended its rededication with Paris mayor (and later president) Jacques Chirac. Its long-sitting organist Jean Gillou has greatly contributed to preserving the organ`s worldwide reputation.


The organ at Saint-Eustache has 8,000 pipes.
* Notre-Dame
Its most famous organist was Louis Vierne. Born almost blind – he fought glaucoma and congenital cataracts all his life, finally composing in Braille. But his genius – recognized at age two — won him the organ at Notre-Dame against fifty rivals. His friends were the great Charles Widor and his pupil Marcel Dupré. With feeble vision, and a leg shattered by a street accident that forced him to re-learn his pedal technique, he spent his life fighting severe glaucoma. Nevertheless, he became a legend. His works still fill out the standard organ repertoire.

Notre Dame
   Église de la Madeleine
      Church par excellence of society weddings, la Madeleine also shines through its superb organ concerts.

                                                         Église de  la Madeleine
*Sainte-Clotilde : The great Belgian organist César Franck spent his entire life here from 1858 as organist, improviser, composer and teacher to several other virtuosos, including the masterful composer Louis Vierne of Notre-Dame Cathedral.
* Église de la La Trinité
Famous for its now-deceased organist –composer Olivier Messiaen. The organ was still another triumph of the late-19th-century master-builder, Arisitide Cavaillé-Coll.
Summing-up: France, and especially Paris, is arguably the world capital of organ music: construction, composition and virtuoso performance. All perpetually inventive. Worth a few more trips just for this?
Read more
http://www.organsofparis.vhhil.nl/
Watch and Listen
https://www.youtube.com/watch?v=FQx4GSbWVYI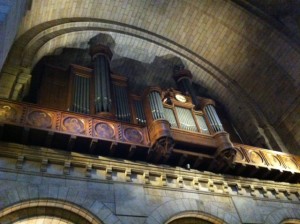 Gracie's Thoughts
When I listen to organ music, I can clearly feel the power and the majesty of the instrument, whether soft or loud (though I definitely would not have it is as my alarm clock!).
It's a shame that some people (mostly my age, I am afraid to say) do not appreciate this kind of classical music that takes you to another world. I will not say that organ music is really my kind of every-day all-day tune but I would listen to it after a great accomplishment or while reading an exciting book…because it makes everything so much more real!
The best thing to do when listening to organ music is to settle down in a comfy chair with a cup of tea, and listen to it with headphones on, so that you can hear every little thing that remains almost inaudible without headphones. 🙂